UPCOMING EVENTS
Monday, Sept 25th
Football Game
I encourage our band members to attend, but attendance is voluntary.
We will not perform at halftime, only a pep band in the stands.
4:45 pm Call Time
6:00 pm Kickoff
9:00 pm approximate return time to JHS
Tuesday, Sept 26th
Marching Rehearsal
Thursday, Sept 28th
Marching Rehearsal
Saturday, Sept 30th
Warhill Marching Competition
1:30 pm Call time to JHS
2:30 pm Depart for Warhill HS
3:30 pm Performance
3:45 pm * Students may be picked up from the stadium.
4:00 pm Depart for JHS
4:30 pm Approximate pick-up time from JHS
* Students would have the option to return to the competition to watch other bands/awards.
---
QUICK LINKS
---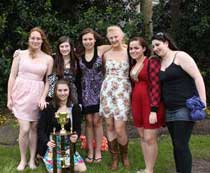 ---